Le week-end de Castelletto, le dernier de la WSK Master 2013, a confirmé le regain de forme de Dorian au volant d'un Energy/TM des plus affûtés. Le résultat européen obtenu à Alcaniz avait laissé entrevoir des possibilités d'améliorations techniques pour rester au contact des plus rapides et l'équipe a fait le nécessaire pour lui fournir une machine très compétitive.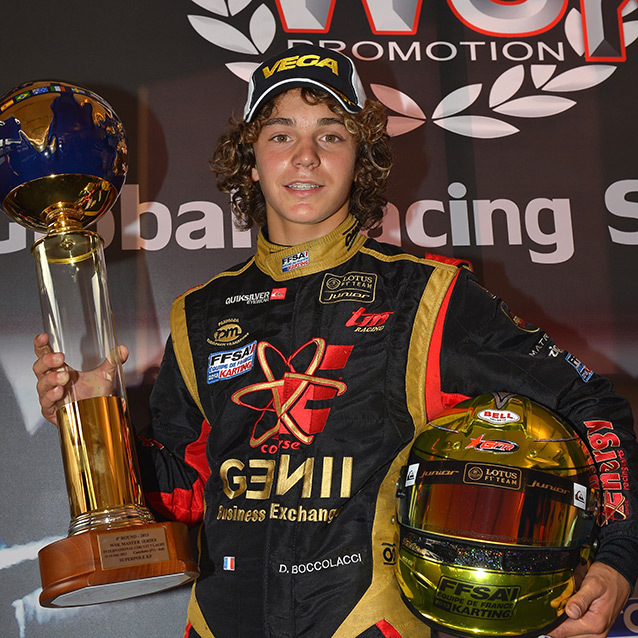 Les résultats parlent d'eux-mêmes : meilleur temps au chrono, vainqueur de la superpole, vainqueur de la préfinale et détenteur du record de l'épreuve. Leader en finale, il a dû rétrograder progressivement à partir du 3e tour pour renoncer finalement au 7e passage à la suite d'un problème d'axe de fusée à l'avant gauche, son châssis ne tournant plus vraiment à droite. La Master Cup ne lui échappait cependant pas avec un total de 226 points contre 127 à Ben Barnicoat, son principal adversaire. C'est déjà le second championnat international remporté par Dorian en 2013.
Dorian se montre confiant pour la suite du programme, son kart lui permettant d'être à la fois rapide et régulier dans la performance, deux éléments clés de la réussite. Rendez-vous le week-end prochain à Ortona, pour la deuxième et dernière manche du Championnat d'Europe KF, avec la victoire dans la finale en ligne de mire.
Info Kartcom / © Photo KSP
The week-end in Castelletto, the final week-end of the 2013 WSK Master, has confirmed that Dorian is back in top shape behind the wheel of an extremely competitve Energy/TM. The European result obtained in Alcaniz seemed to suggest possible technical improvements to keep pace with the fastest and the team has made all that was necessary to provide him with a very competitive kart.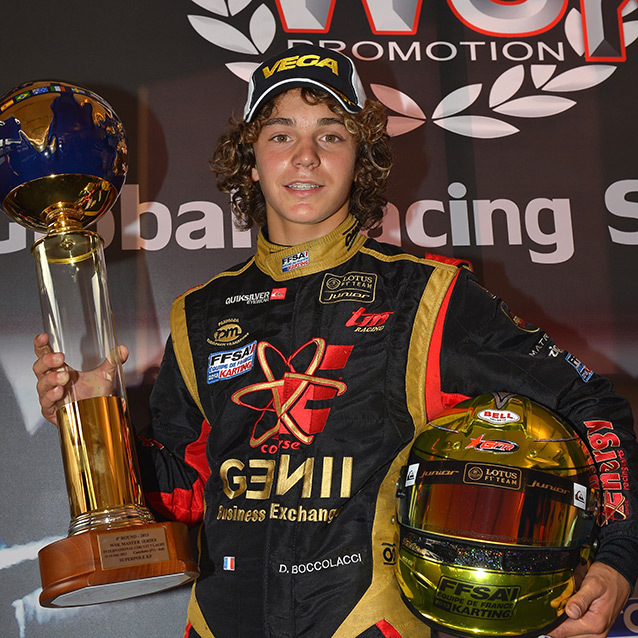 The results speak for themselves : best time in timed qualifying, winner of the superpole, winner of the pre-final and record-holder of the round. Leader in the final race, he had to lose ground progressively, from the 3rd lap on and finally to give up at the 7th passage as a consequence of a problem at the front lef-wheel axle, with his chassis that could no longer turn right. However, he did not let the master cup slip away with a total of 226 points as against the 127 points of Ben Barnicoat, his main rival. It is already the second national championship won by Dorian in 2013.
Dorian appears confident for the remaining of the program. Thanks to his kart, he can be fast and consistent in his performance at the same time, two key success factors. He will be in Ortona next weekend, for the second and final round of the FC European Championship, targeting the victory in the Final.
Info Kartcom / © Photo KSP
Il week-end di Castelletto, l'ultimo della WSK Master 2013, ha confermato il ritorno di forma di Dorian al volante di un Energy/TM dei più competitivi. Il risultato europeo ottenuto ad Alcañiz aveva lasciato intravedere delle possibilità di miglioramento a livello tecnico per restare vicino ai più veloci e il team ha fatto ciò che era necessario per fornirgli un mezzo molto competitivo.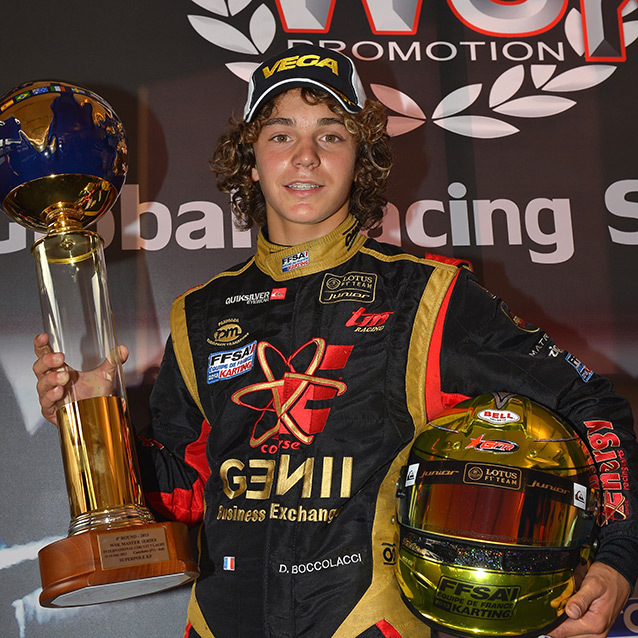 I risultati parlano da soli: miglior tempo nelle prove cronometrate, vincitore della SuperPole, vincitore della prefinale e detentore del record della prova. Leader in finale, ha dovuto progressivamente cedere a partire dal terzo giro per poi ritirarsi definitivamente al settimo passaggio a causa di un problema all'asse della sospensione anteriore sinistra, in quanto il suo telaio non girava più veramente a destra. La Master Cup non gli è comunque sfuggita di mano grazie ai 226 punti contro i 127 di Ben Barnicoat, suo principale avversario. Si tratta del secondo campionato internazionale conquistato da Dorian nel 2013.
Dorian è comunque fiducioso per il prosieguo della stagione in quanto il suo kart gli consente di essere veloce e regolare nella performance, due elementi chiave per il successo. Appuntamento il prossimo week-end a Ortona, per la seconda e ultima manche del Campionato europeo KF con la vittoria finale come obiettivo.
Info Kartcom / © Foto KSP
El fin de semana en Castelletto, el último de la WSK Master 2013, confirmó la forma de Dorian al volante de un Energy/TM de los más afinados. El resultado europeo alcanzado en Alcañiz había dejado entrever la posibilidad de obtener mejoras técnicas para estar entre los más rápidos y el equipo hizo todo lo necesario para entregarle un kart muy competitivo.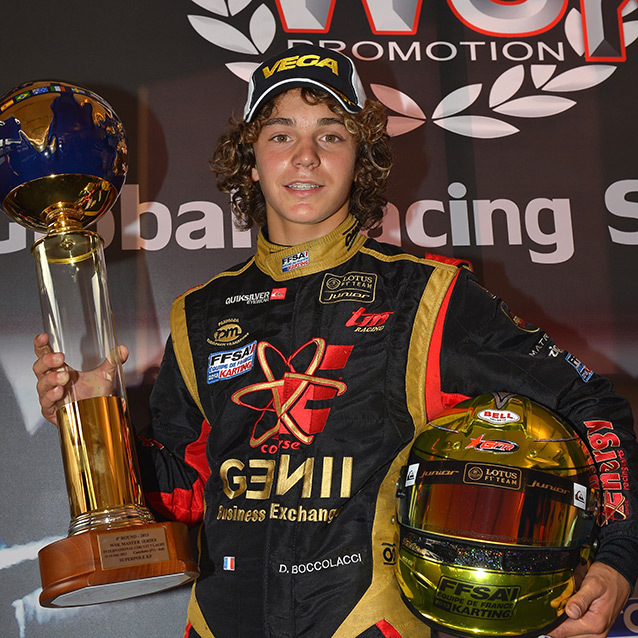 Los resultados hablan solos: mejor tiempo en las pruebas cronometradas, ganó la superpole, ganó la prefinal y es poseedor del récord de la prueba. Líder en la final, tuvo que ceder progresivamente a partir de la tercera vuelta para renunciar finalmente en la séptima debido a un problema en el eje de la suspensión delantera izquierda, dado que su chasis había dejado de girar correctamente a la derecha. Sin embargo no se dejó escapar la Master Cup gracias a los 226 puntos contra los 127 de Ben Barnicoat, su principal rival. Se trata del segundo campeonato internacional que Dorian ganó en 2013.
Dorian se muestra confiado con respecto a la segunda parte de la temporada, dado que su kart le permite tener un rendimiento rápido y regular, dos elementos fundamentales para el éxito. La próxima cita es en Ortona, con la segunda y última manga del Campeonato europeo KF y el objetvo es la victoria final.
Info Kartcom / © Foto KSP