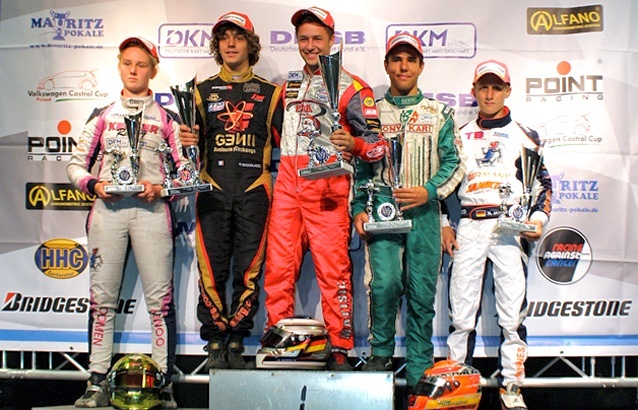 Before preparing for the first meeting of the World KF Championship that will be held in England on the circuit of PFI, Dorian interrupted his short holiday to go back to Germany, on the winding circuit of Hahn, to compete in the fourth round of the Deutsche Kart Meisterschaft. The Energy Corse team and Boccolacci discovered the circuit at the last minute, during the last free practice sessions: «We did not have much time to work» Dorian explained. «It is a particular track, with several series of corners where you drive at the same pace and even the smallest mistake can have serious consequences, and there is only one spot where you brake hard. Overtaking is difficult, especially when the other drivers know every single inch of the track and have had two more days to practice. On top of all this, I had to adapt back to Bridgestone tyres».

Dorian set the fifth time in timed qualifying and kept his position in the two qualifying heats, with a nice second place in the second heat, together with the fastest lap time in the race. On Sunday, at the start of Race 1, the German track was still pretty wet after a heavy downpour. «It was my first race of the year in the rain. It took me several laps to find my bearings again. I was at the end of the race, where I usually set the fastest times, but it was too late». Dorian fought bravely not too loose too many positions on the first laps and concluded with a 6th place.

On a track with much higher grip when the sun came out again, he caught up in Race 2 thanks to an excellent start and kept second place up to the finish line, never taking pressure off the leader, André Matisic, but without seriously threatening him, since André skilfully controlled the situation. Though he has just competed in two of the four meetings, Dorian is still 5th in the German Championship and will attend the last round at Genk (B) in mid-October.
Info Kartcom / © Photo DKM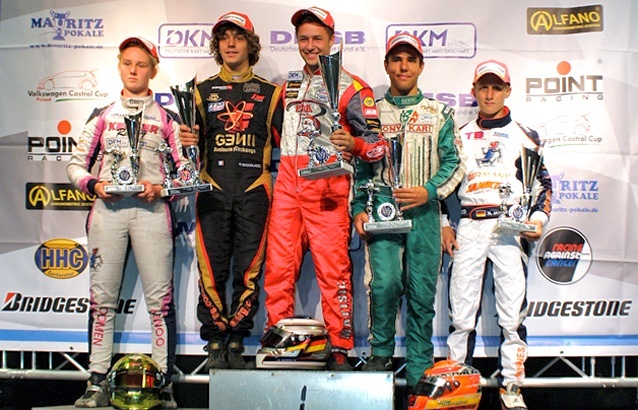 Avant de se préparer pour le Championnat du Monde KF dont le premier rendez-vous se tiendra en Angleterre sur la piste de PFI, Dorian a interrompu ses courtes vacances pour retourner en Allemagne, sur le circuit sinueux de Hahn où se tenait la 4e épreuve du Deutsche Kart Meisterschaft. Le team Energy Corse et le pilote découvraient le tracé au dernier moment lors des ultimes séances d'essais libres : « Nous n'avons pas eu beaucoup de temps pour travailler. » expliquait Dorian. « La piste est particulière avec de nombreux enchaînements de virages dans le même rythme, où la moindre erreur est lourde de conséquences, et un seul freinage vraiment marqué. Il est difficile de doubler, surtout quand les autres connaissent toutes les subtilités de l'endroit et se sont entraînés deux jours de plus. Il a fallu d'autre part s'adapter de nouveau aux pneus Bridgestone.»

5e temps au chrono, Dorian maintenait son rang dans les deux manches qualificatives avec notamment une belle 2e place dans la seconde, assortie du meilleur tour en course. Au départ de la course 1, dimanche, la piste allemande était encore bien mouillée à la suite d'une belle averse. « C'était ma première course de l'année sous la pluie. Il m'a fallu plusieurs tours pour reprendre mes marques. J'étais bien en fin de course, où je fais le meilleur temps, mais c'était trop tard. » Dorian se battait courageusement pour ne pas perdre trop de places dans les premiers tours et terminait 6e.

Sur un tracé beaucoup plus adhérent grâce au retour du soleil, il refaisait son retard en course 2 grâce à un excellent départ et occupait ainsi la 2e place jusqu'à l'arrivée, sans jamais relâcher la pression sur le leader, André Matisic, mais aussi sans avoir la possibilité de le menacer sérieusement, celui-ci contrôlant habilement la situation. Malgré seulement deux épreuves disputées sur quatre, Dorian pointe encore au 5e rang du Championnat d'Allemagne et participera à la dernière course mi-octobre à Genk (B).
Info Kartcom / © Photo DKM