Communiqués
While waiting for a new challenge in the GP3 Series, the young French prospect Dorian Boccolacci revealed another aspect of his talent in the Andros Trophy at Isola 2000. A last minute guest, he didn't need long to understand the rules of racing on ice by clearly dominating his category on the second day to finish on the top step of the podium.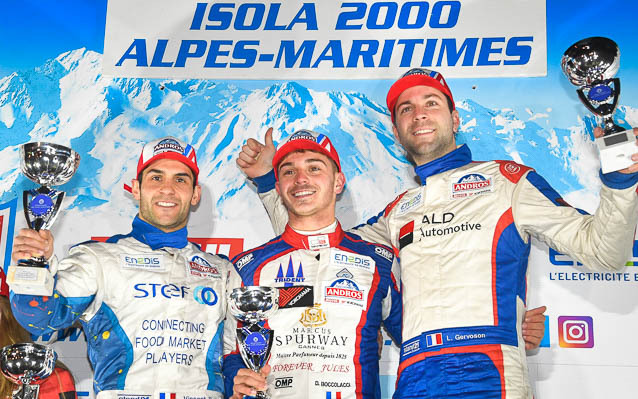 This natural competitor replaced the driver of the car n ° 5 in the colors of SPI Logistic at short notice as part of the Enedis Trophée Andros Électrique. This one-design series, launched more than 10 years ago, has crowned great champions like Loïc Duval, Romain Grosjean, Stephanie Ortelli, Simon Pagenaud, Nicolas Prost and Benoit Tréluyer before today becoming a real pool of young talent.

The Andros 04 car has evolved since the origins of this trophy. It is now a two-wheel drive rear-wheel drive car capable of reaching 160 km / h on ice with its studded tyres. The competition pits specialists accustomed to ice such as Christophe Ferrier, four-time winner, Aurélien Panis, the current leader or the 2nd-placed Vincent Beltoise. The two-time German DTM champion and FIA World Rallycross Championship driver Timo Scheider also took part in the event for the first time.

With only experience of some winter training in Finland in the past years, Dorian approached this new challenge with his usual ease. He was progressing very quickly on the 800m of the high altitude track in the Alpes Maritimes and was already in the top four of Race 1, on Friday, January 12th. Confident after his discovery phase, he went into gear the next day. He had already taken the lead in the Qualifying sessions by twice posting the fastest time. He continued to play the big game in Race 2 and did not let any of his opponents challenge him in 1st place. He won an incredible victory with a lead of more than 6" over Vincent Beltoise.

"I had a great experience with electric power on the ice," said Dorian. "It's not a track that I knew when I arrived, but I've always had good sensations on ice. I was very happy to have shown that I knew how to adapt very quickly to these extreme conditions and I had a lot of fun on the ice. Winning in front of the top specialists of the discipline in my first attempt gave me a lot of satisfaction. This is a good sign for the important season where I want to tackle the GP3 Series with winning morale."
© Photos Trophée Andros - B. BADE